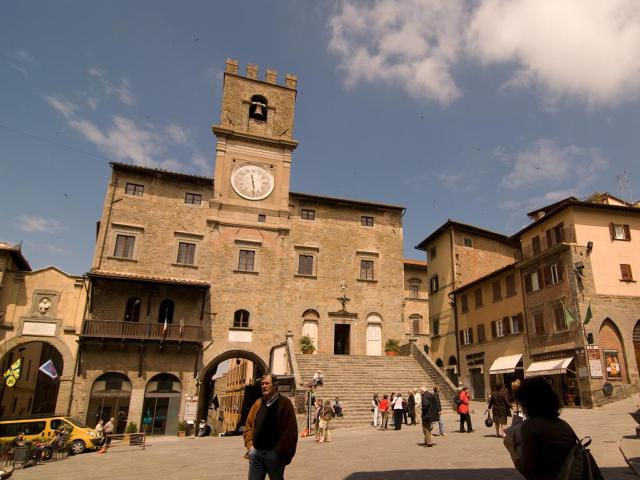 Cortona, Tuscany, is the land of sun. Situated on a beautiful hill 500 meter high it is an Etruscan city with a great history, amazing views of Val di Chiana and high quality wines to discover. It is easy to arrive in Cortona because it has a great strategic position near the Milan-Rome highway, near the freeway to Perugia, Assisi and Siena, only a half hour away from Montepulciano and Pienza and one hour from Florence. Through one of my private wine & food tours you can taste the variety of Syrah, famous DOC of Cortona and other red IGT wines of the area including fresh white wines too, a genuine taste of the Famous Chianina beef and family-run oil mills for olive oil tastings.
You will enjoy wine tastings, olive oil tastings, cooking classes, lunches & dinners in small and famous restaurants eating typical dishes among which those made with fresh porcini mushrooms and chestnuts of the territory. All this, together with the charming beauty of this hill town, will make you live a memorable adventure in Tuscany, Italy. With my private tours you get the chance to visit and touch the reality of small wineries of the area, big & small farms of the most famous breed of Tuscan beef called Chianina, and live the experience of visiting, tasting, enjoying and touching the authenticity of the life here with the people who love to make and show you their genuine productions. I will  arrange the best tours in the city known to many for being the set of US movie Under The Tuscan Sun, merging in a warm and unique atmosphere of times long past, and living an unforgettable vacation in this ancient and beautiful small town, so big in history. Walking through the small windy roads filled with shops, coffee bars & restaurants, step by step you will take in the charming history of this city where time seems to stop, and you won't want to leave.
Come visit, don't miss the chance of a trip to Cortona in Tuscany, and go with me on my private wine & food tours, it is a must while you are in Italy.